News Update

Click Newsletter Icon to Download Newsletter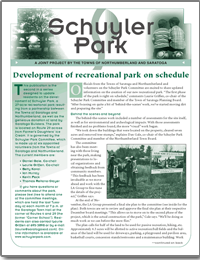 Officials from the Towns of Saratoga and Northumberland and volunteers on the Schuyler Park Committee are excited to share updated information on the creation of our new recreational park.
"The first phase of the park is right on schedule," comments Laurie Griffen, co-chair of the Schuyler Park Committee and member of the Town of Saratoga Planning Board. "After focusing on quite a bit of 'behind-the-scenes' work, we've started moving dirt and preparing the site."Volunteers offer donations of funds, goods and services "Many business people and individuals have volunteered time, services and funding for this intermunicipal project," Griffen says. "We're thrilled with the enthusiasm we're seeing and, of course, we welcome any help that our community wants to provide."